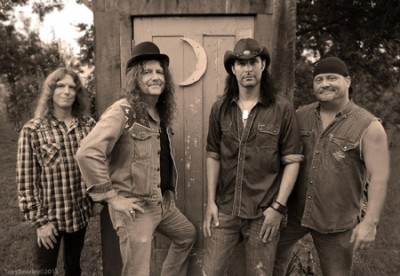 Skinny Molly was founded by guitarist/vocalist Mike Estes (formerly of Lynyrd Skynyrd and Blackfoot) original Molly Hatchet guitarist Dave Hlubek and Nashville, TN studio drummer Kurt Pietro. Originally slated to do a one-off tour of Europe in 2004, Skinny Molly has, fourteen years later, become one of the hardest working and popular rock bands out of the southern United States. "That first tour went great," Estes says. "so we decided to keep it going." From 2004 to 2007 (Hlubeck went back to Molly Hatchet in 2005) the band had different members come and go. By 2008, the line up was solidified for the next nine years; Estes, Pietro, former Rossington Band and Blackfoot guitarist/vocalist Jay Johnson and Grand Ole Opry stalwart bassist Luke Bradshaw. They toured relentlessly and recorded three albums; "No Good Deed" (2008) "Haywire Riot" (2012) and "Here For a Good Time" (2014) "We did the 'Three in Thirty' tour after the first record. Three continents in thirty days. It was nuts. We've been staying on the road or in the studio a whole bunch since then. The plan is to keep going as long as people keep coming to see us." Estes said.
"The cool thing about this band is we ain't really stuck on one sound or style. Some songs are a little bit country, some ain't. I like all kinds of music, and so does everybody in the band" Estes said. The result of this is a gumbo of southern rock, old country, blues, hard rock, and Americana. All three records, while different from each other, retain Estes' dark lyrics about lost love, redemption and the freedom of life on the road. "On 'Good Time' I did let some lighter moments shine through" he said. "Everybody in the band is comedian, so, why not?"
Drummer Kurt Pietro left the band in August, 2017. Enter drummer Kyle Law. Kyle came in on the recommendation of a good friend of the band; blues-belter Miranda Louise. "It took us eight months to find Kyle. I can't thank Miranda enough for steering us to him. He really plays for the song; He lives to play the drums. I love that about him. He's coming on strong with the new CD, and he slayed it at the 'Ramblin' Man Festival' last year. That was our best performance of any festival we've ever played, though we've probably equaled that shows' performance at the festivals we played this past June" Estes said.
For the rest of 2019, the band will play dates in the States in July, a European tour will commence on August, 16 2019 in Deest Netherlands. "We haven't been there in quite some time" Estes said. The first gig I did in Europe was in the Netherlands. We've been back a few times since, but it's nice to come back and play a good size festival". Estes said. The band will be back home in October, and will start gigging very soon after. "I moved the Fall tour up a month and a half from the normal period in order to be home at Thanksgiving this year. I've been missing it and don't want to miss it again this year" Please click the "Tour" tab for all updates.
Skinny Molly has built an extremely loyal international following the old fashioned way; playing an energetic live set with concrete solid songs anywhere in the world that will have them: Euro rock festivals, Stateside bike rallies, the world's largest fishing tournament in Mexico, to any honky-tonk in any given place on the globe; their battle cry is unwavering; "Never let a single fan go home disappointed!" is a vision that quite of few bands have not only lost sight of, but never had to begin with.