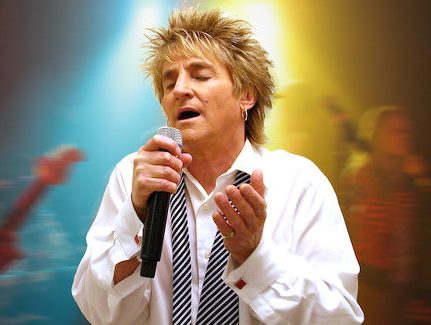 People stop Rob Caudill in airports for autographs, they stare at him in restaurants, and when he struts on stage, the crowd goes wild. Why? Caudill is a dead-on Rod Stewart impersonator. With spiked blonde hair and leopard-skin coat, the Memphis-based singer has carved out a career re-creating Rod's show and his greatest hits with uncanny accuracy.
Rob began his musical career after graduating from high school and from the age of seventeen people always told him he looked like Rod Stewart but never really paid any attention. Shortly after graduating he moved to Memphis, Tennessee to study music at Memphis State University and began playing bass guitar in bands around the area.
Rob got his first break while playing bass for the 80's band called, ironically, "The Breaks" with a contract on RCA Records. The Breaks first single "She Wants You" was played in heavy rotation on MTV and that caught the attention of Bugle Boy Clothing who used "The Breaks" for their first MTV commercial. After a few decisions and several bands later, Rob began doing session work with Joe Walsh of The Eagles and heeded his advice to become a Rod Stewart Impersonator.
AT that point, Rob put down the bass, bought some wild clothing and studied a lot of videos to learn Stewart's classic vocal style and mannerisms. In 1996 Rob started his new career as a Rod Stewart Tribute Artist. He has been swinging his microphone stand and kicking soccer balls into the audience just like the real star ever since. Rob has done his Tribute to Rod all over the world including China, Malaysia, and Canada and performs more than 60 Stewart classics.
Today Rob continues to grace the stage for Legends In Concert and claims, "I've got the greatest job in the world, making a living doing something I love."