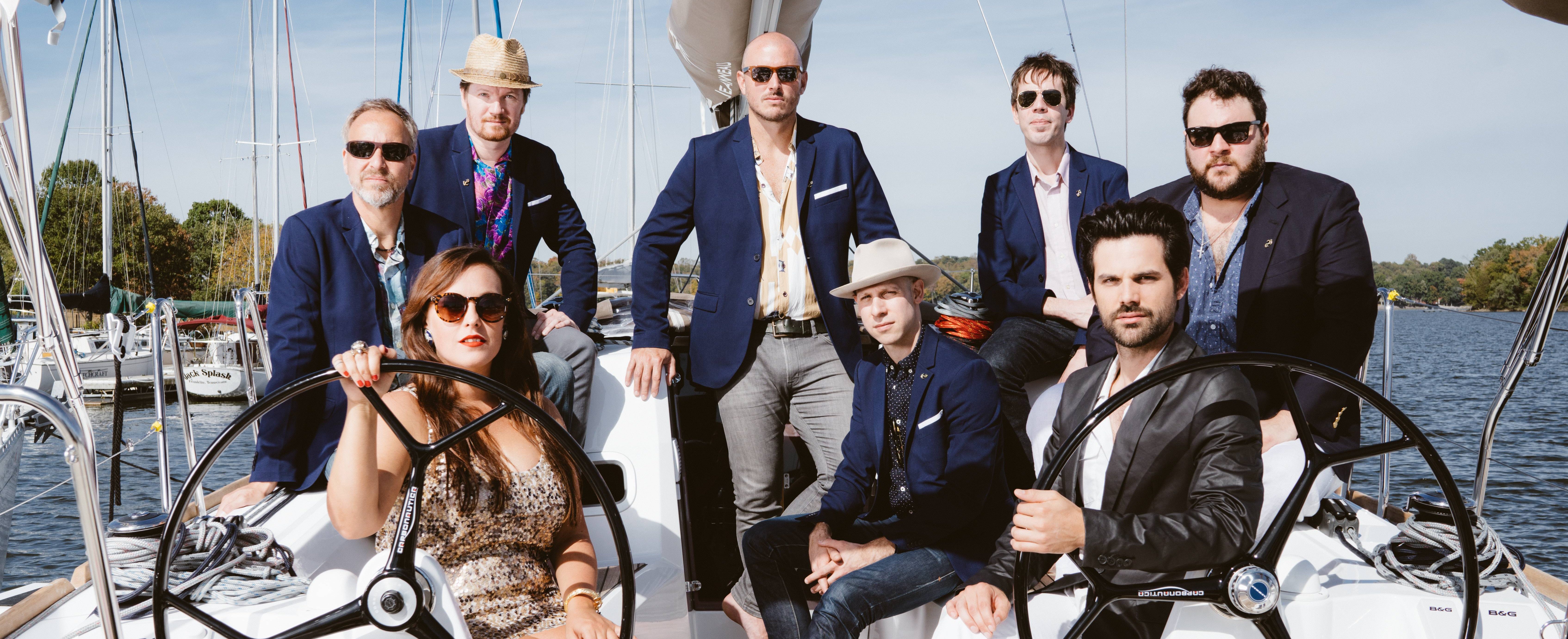 The Ultimate Yacht Rock Band!
Call it what you want: AM gold, yacht rock, AOR...it's the embodiment of a mustachioed, blow-dried era of soft-focused wonder. No doubt you've heard the songs, with their layers of falsetto male voices singing in perfect, shirtless harmony (The Doobie Brothers - "What A Fool Believes," Christopher Cross - "Ride Like The Wind," Kenny Loggins - "I'm Alright," Toto - "Africa") and felt the gentle touch of their Aqua Net charms (Laura Branigan - "Gloria," Captain and Tennille - "Love Will Keep Us Together"), but have you ever experienced the genius of these smooth, hit songs in all their brilliant splendor performed live, and all in one place? By way of introduction, we present to you NASHVILLE YACHT CLUB, otherwise simply known as N.Y.C. Among the playlist of songs, mostly limited to that 1975-1985 era of soft rock lore and hard-hitting dance floor staples, you will hear these smooth, timeless classics come to life as never before, rendered completely (mostly) without irony or jest, in glorious tribute.
Ahoy! N.Y.C. features some of the most accomplished musicians in the charted universe! This 8-piece tribute band comprises among its members over a century of collective experience playing live music all over the world. Co-captaining the lead vocals you'll find Cody Belew (The Voice) and Carrie Welling at the helm, ready to deliver those extraordinary songs you know and love, as well as so many timeless male/female duets of the era. Anchoring the band are accomplished bass player Matt Wigton (Christopher Cross, James Otto), and rock steady Ramsey Roustom (Blue Man Group, Colin Hay) on the skins. Jay Barclay (Augustana, The Waterboys, Ben Kweller) mans all the tides of guitar duty, delivering all those signature lines and searing solos you love to sing along with. Ryan Link (Rent, Once) is the backbone of our ship; navigating us on percussion, guitar, backing vocals, sax and more. On double keys, the "flung spray and blown spume" of N.Y.C. are John Pahmer (Carly Simon, Terence Trent D'Arby, Jordin Sparks) and David Lukens. They put all the ripples on the water, bringing those lush 70s & 80s arrangements to life
.
So, lay back. Kick off your loafers. Grab a Dark n' Stormy. Unbutton that silk blouse, man, and let NASHVILLE YACHT CLUB BAND light up your wedding, party or corporate event
!
Parties! Events!
Club shows, casinos, festivals, corporate events...we've got you covered. N.Y.C. proudly offers dazzling, high energy, note-perfect renditions of some of the most enduring songs of the modern era. Our setlist is loaded front to back with time-tested smash hits designed to keep your dance floor busy and push your party over the top!
Weddings!
You don't need to hear "Brick House" or "Brown Eyed Girl" ever again. Let N.Y.C. make your special day unique and unlike all the others. After all, these are some of the most romantic songs ever written and loved by every generation on your guest list. We'll have your dance floor packed all night with your friends and family reveling in the spirit!
But, a soft rock wedding band? Really?
We understand "Hey Nineteen" may not be precisely what you had in mind for your father-daughter dance. We really do. While the smooth hits of the 70s & 80s are our specialty, the eight members of N.Y.C. are wedding and show band veterans and will gladly accommodate up to three requests from any era or genre at no additional charge.
And that's not all…
Our singers can MC your event! This includes (and not limited to) all announcements, introductions and recorded music playback. A cocktail hour jazz combo and/or solo piano for your ceremony are happily offered as additional services.