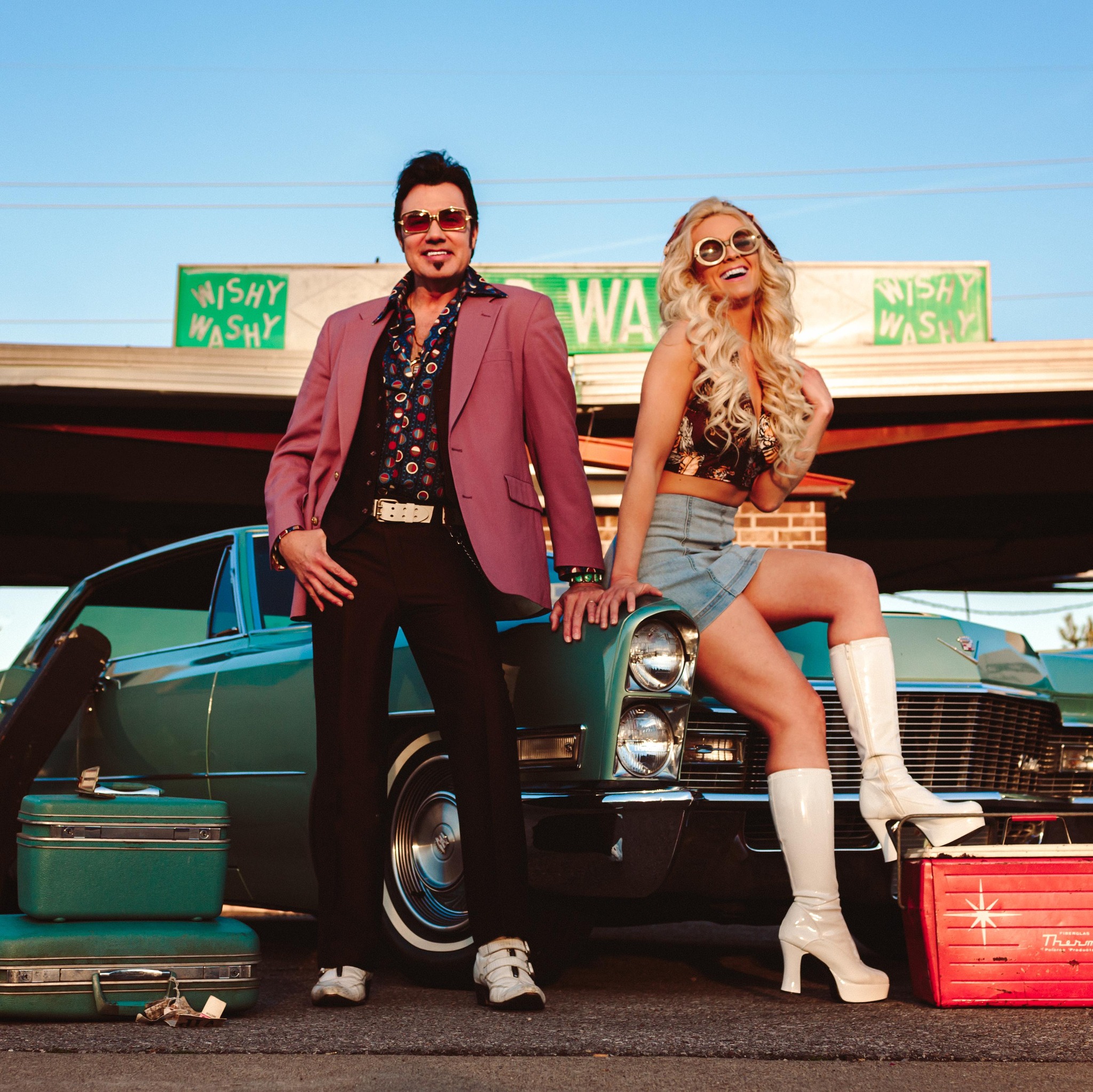 "The best mix of Sun Records meets the Grand Ole Opry that I've ever seen or heard!" -Billy Bob Thornton
"Eric Heatherly has more talent than any man ought to be allowed. He writes incredibly addictive songs. He sings like an angel and plays guitar like the devil. His rhythm sense is impeccable. On top of everything else, he's a superb showman!" -Robert K. Oermann
At five years old, Eric Heatherly fell in love…with a six-string that his dad rescued from a garbage bin while making deliveries in his truck. His father testifies that all Eric had to do was listen to a vinyl record once and he could play the song back on that beat-up guitar instantly. And the first song he learned (from his father Earl) was "Folsom Prison Blues." Pretty fitting, considering Johnny Cash's fondness for trains and the ride Eric found himself on.
From those humble beginnings growing up in Tennessee, Eric's become one of the most accomplished guitar slingers to hit the charts in decades. Guitar legend Duane Eddy cited Heatherly as "his favorite new guitarist" upon hearing his first single. In 1997, Shania Twain invited Eric to play guitar for her on stage at the CMA Awards and to join her on the subsequent world tour. Although a tempting offer and a tremendous compliment, he graciously declined in order to keep his solo career efforts from derailing.
Heatherly's first album, Swimming in Champagne (Mercury Records), surfaced in April 2000. It met with widespread critical honors, became Billboard's #44 Top Album of the year and yielded three Top 40 singles. One of those singles, "Flowers on the Wall," walked away with the honor of the #3 Top Country Single of 2000 AND #1 video designation from both Great American Country (GAC) and Country Music Television (CMT). During the next few years Eric Heatherly recorded two more albums that remain something to be proud of: Sometimes It's Just Your Time, (Dreamworks) and The Lower East Side of Life, (Koch USA & Universal/Germany).
Eric had his hands in every ingredient on The Lower East Side of Life collection. Among other accolades, it was named one of 2005's Top 10 albums by hot weekly Nashville entertainment magazine All the Rage. The release found its way to Universal/Europe and spawned six Top 10 singles. Heatherly's momentum continued in 2009 with his release, "2 High 2 Cry" (produced by Carson Chamberlain), which instantly received rave reviews. The album included the track, "Unforgettable" which was featured in the critically acclaimed television series, Grey's Anatomy.
Elsewhere Heatherly's guitar-slinging/songwriting successes extend further into print, with features in Playgirl (naming him one of country music's Top 5 sexiest singers), Guitar Player, and Music Row magazine (awarding him their coveted "Critic's Pick"). He's made numerous appearances on CMT, at the CMA Awards, and has also been featured in the IMAX film, Our Country. In addition, Heatherly has rocked the Grand Ole Opry stage and Austin City Limits, and was the guest of esteemed music authority Harry Chapman on the TV show Words & Music. Acclaimed Hollywood film director Robert Rodriguez, (Spy Kids Trilogy, Desperado, Sin City), was so floored by Eric's fun-loving witticisms in his co-written song "Wrong Five O' Clock" that he made a five-minute film short for it!
But his atypical story doesn't end there: Heatherly's creativity rears its head through other avenues too. He's single-handedly founded Kustom Duds, an original clothing and music accessories company. Already some of his designs have made their way into the Musician's Hall of Fame in Nashville, Tenn. In 1999 he co-created and patented the "Hot-Rod" seat belt guitar strap, featured on the cover of Guitar Player Magazine.
"It was awesome," he says. "I would be playin' shows with Brooks & Dunn, Montgomery Gentry or Brian Setzer and their guitar techs would approach me after the shows asking me where I found the seatbelt guitar strap. I would laugh and say, I made it in my garage!" In fact, he started giving the straps away to the big acts he was touring with as a thank-you. His designs are now adorned by superstars like Lenny Kravitz, Kid Rock, and Rascal Flatts!
When he's not touring or recording, Eric finds relaxation by expressing his other artistic side as a painter. He also relishes his time with 6 yr. old daughter, Christiana, his dog Lucky and his local church.