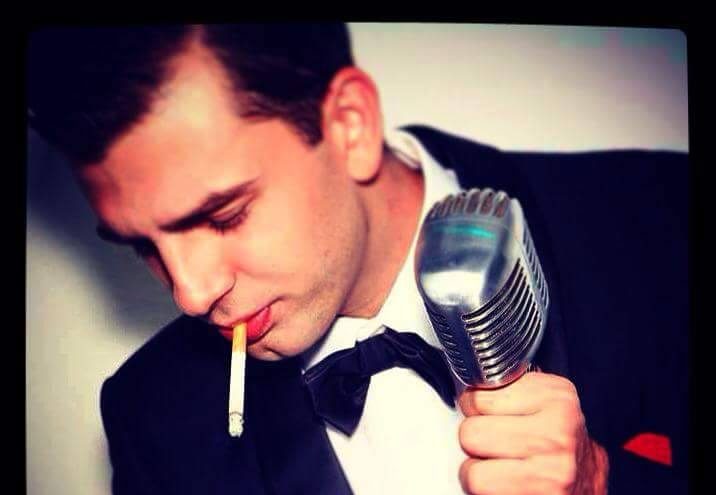 DAKOTA started his career tributing FRANK SINATRA at the age of 5 at Mickey Rourke's Club in Miami. SINATRA fell in love with him and invited him back stage when he was 8. It made "The National Enquirer." SINATRA told DAKOTA, "You've got IT kid" and handed him his orange handkerchief from his vest pocket before he went on stage. DAKOTA has been tributing SINATRA ever since - from LEGENDS IN CONCERT in Vegas to BRAD PITT and JENNIFER ANISTON'S wedding in LA, to opening for NATALIE COLE to wrapping one year at THE FOUR QUEENS CASINO in Vegas in THE BROADWAY RAT PACK...to various casinos including The HORSESHOE Casino in Indiana to "THE NIGHT THAT NEVER WAS" starring, Frank, Peggy, Judy and Ella @ THE EMPIRE ROOM in Chicago.
RICK KOGAN, Chicago Tribune columnist/WGN Radio Host said of Dakota ~
"There is no better entertainer in Chicago than DAKOTA HORVATH."
Though DAKOTA started out his career tributing FRANK SINATRA at "Legends in Concert" in Las Vegas & singing for BRAD PITT & JENNIFER ANISTON'S wedding in LA, today, at 31 years old, he has established himself as a crossover Artist who sings multiple genres of music including JAZZ, POP, FUNK, SOUL and R&B.
IN VEGAS! (August 2013 - August 2014) DAKOTA wrapped A ONE-YEAR RUN AS SINATRA in"THE BROADWAY RAT PACK at THE FOUR QUEENS Casino, 5 nights a week, 2 shows a night.
DAKOTA has opened for Natalie Cole & performed at The Sopranos' Emmy Awards party. He has shared the stage with such celebs as Tony Bennett, Jimmy Buffet, Herbie Hancock, Seal, Rick Springfield, Clint Holmes, Don Rickles, Dennis Tufano, Melissa Etheridge, Lou Rawls, Paul Anka, Michael Bolton & Tony Orlando. DAKOTA has worked with legendary Musical Director, MR. VINNIE FALCONE. DAKOTA appeared at "The South Point Casino" in Las Vegas singing the original charts of BOBBY DARIN with a 14 piece orchestra, featuring the "Fat City Horns" from the Las Vegas based mega-watt band, "SANTA FE."
DAKOTA has appeared in Las Vegas at numerous venues & has worked with Bobby Rosario on "The Dennis Bono Show." Following a 3-month tour in Beijing, China, DAKOTA has headlined at numerous venues including LA clubs…Herb Alpert's Vibrato, Catalina Bar & Grill, Jazz at the A-Frame & Spazio. In Chicago...Dakota has worked at The House of Blues, The Auditorium Theatre, The Arcada Theatre, The Metropolis Performing Arts Centre, Pheasant Run Theatre, Andy's Jazz Club, The Jazz Showcase, Katarina's, The Backroom, Fly Me to the Moon,12West, Please, Bourbon & Brass & The Joynt. His list of clients are many including The City of Hope, Boys Town, Coach for Kids, Sketchers & the Chicago Bulls.
FRANK SINATRA was not DAKOTA'S only singing influence. He grew up listening to Carmen McRae, Billie Holiday, Ella Fitzgerald, Sting, Barbra Streisand, Stevie Wonder & Gino Vanelli. Now 31, DAKOTA has emerged with his own vocal styling…mixing it up & appealing to audiences of all ages.
DAKOTA'S SHOWS (trio up to a Big Band)
DAKOTA REMEMBERS MR. SINATRA (A young boy & his mentor)
DAKOTA SWINGS SINATRA (songs Sinatra made famous)
DAKOTA SWINGS THE RAT PACK & Friends (songs of Frank, Sammy, Dean, Bobby Darin, Tony Bennett, Vic Damone & more)
DAKOTA'S RAT PACK SHOW "The Rat Pack Returns Spectacular"
THE NIGHT THAT NEVER WAS with Sinatra, Peggy, Judy and Ella
DAKOTA'S most recent CD, "When Will She Go Away," features the virtuosity of the Jazz great, BENNY GREEN, on piano and is being played locally by Dee Alexander on Sunday evenings on WFMT.
DAKOTA'S voice has been compared to MILES DAVIS' trumpet. (Music Industry Newswire, 2016)
His voice has also made news on Regis Philbin, Diane Sawyer, Jerry Springer, Phil Donohue, Jenny Jones, Fox in the Morning, Good Morning America, US Weekly, London Mirror, Chicago Sun-Times, Chicago Tribune, The NY Times & The LA Times, WGN Radio in Chicago & KJAZZ Radio in LA.