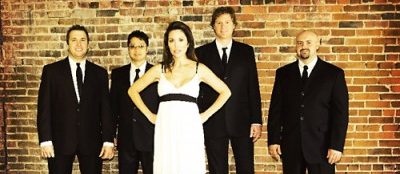 Bueller… Bueller… Bueller?
Bueller Is Nashville's Premier 80'S Tribute! From synthesiser-led Flock of Seagulls and Van Halen to classic metal of Poison and Def Leppard, BUELLER is Nashville's live tribute to the very best in 80's music! Specializing in clubs, casinos, corporate events, and private parties, let Bueller entertain at your next event! The band has performed over 2000+ parties, weddings, parties and corporate events over the last 15 years.
Bueller is comprised of professional musicians who've been playing together for several years. Their tightly knit sound, 5 lead vocalists, extensive song list, and ability to tailor and transform their performance to entertain any crowd puts Bueller in a class that is unmatched by any other band. The band can also be booked as a 3 or 4 piece if budget is an issue.
Charismatic and personable, Bueller is highly adept at working with clients and will do everything possible to ensure that your event is flawless.
Bueller, well-versed in providing entertainment for wedding receptions, special events, clubs, festivals and charity events, is more than happy to tailor each performance specific to your needs and will work to make sure that both you, and your guests, enjoy your event to the fullest.
Sample Song List
All I Need Is A Miracle - Mike And The Mechanics
Boys Of Summer - Don Henley
Dancing In The Dark - Bruce Springsteen
Fight For Your Right - Beastie Boys
Hysteria - Def Leppard
Jump - Van Halen
Just What I Needed - The Cars
Message In A Bottle - The Police
Summer of '69 - Bryan Adams
White Wedding - Billy Idol
Don't Stop Believin' - Journey
Rosanna - Toto
In Your Eyes - Peter Gabriel
and many, many more!!!
What people are saying about Bueller's 80's Tribute…
Hi Dave!
I just wanted to thank you for such a great performance at our wedding. You guys were SO GREAT!!!!! Everyone had so much fun. I picked you guys because you aren't a cheesy wedding band that plays country music, and I was so happy with how everything turned out. Y'all rock!!
- Erin Duea
Hi Dave,
We are on honeymoon right now, but I just wanted to send you a quick note. You guys were awesome! I felt bad we couldn't keep people on the dance floor because you were knocking it out of the park. I was floored by how good you guys were.
I'll send a more detailed note when we are back on the 9th and try to give you guys some good feedback.
Thanks again!
Kyle
Dave
I want to thank you and the whole band for an outstanding program the other night. All of you were a pleasure to work with and were professional in every sense of the word. Susan and I appreciate your willingness to travel this far to provide our patrons with a great evening of music from the 80s. They had a fun time singing along and even dancing in the back of the room!
Your love for what you do comes through so evidently as you perform and we are so grateful that you shared both your time and talent with our community!
Gwen Fisher Stivers
Adult Programs Supervisor
Laurel County Public Library
Hey Dave,
Now that life is finally getting back to normal again, I just wanted to send you a quick email to thank you and Bueller for making our wedding reception so much fun. You guys were awesome and totally exceeded our expectations! We are still getting compliments on you guys even now, nearly 2 months after the wedding! Just wanted to say thanks again for being so great to work with and for helping make our wedding reception everything we had ever hoped for!
Sincerely,
Rachel Royer & Justin Goins
I have nothing but positive to say about the Bueller Band. Communication was great and very professional, arrived and set up on time, very nice, and did everything exactly as we wanted.
Thanks!
Shane Corbitt
Dave, the band was absolutely unbelievable. They were so easy to work with and they had everyone on the dance floor. They were everything I could have dreamed of for my wedding. I could not be more pleased with them.
Blair Lewis
You guys were AWESOME last night! Thanks for being a part of a fun night!
Ashley Weimer
Promotions Director, Supertalk 99.7
Cumulus Media